What is a vortex mixer?
A vortex mixer, also known as a vortexer, is a simple apparatus that is often used in laboratories to mix small vials of liquid. It comprises of an electric motor positioned somewhat off-center, with the driving shaft vertically coupled to a cupped rubber portion. The rubber component rapidly oscillates in a circular motion as the motor turns. The motion is transferred to the liquid within the rubber cup and a vortex is formed when a test tube or other suitable container is shoved into it (or touched to its edge).
Vortex mixers are frequently used in bioscience laboratories. They may be used to suspend cells in cell culture and microbiology laboratories. They may be used in a biochemical or analytical laboratory to combine assay reagents or to combine an experimental sample with a dilutant.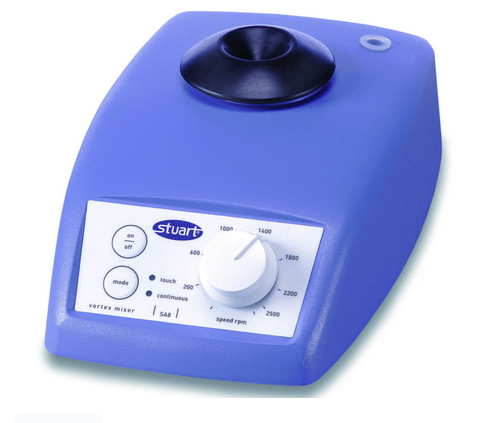 These are the different types of vortex mixers –
Variable speed mixer: The vortex mixer has a speed controller with a speed range of 100-3200 rpm. It also includes the option of operating in touch or continuous mode. Vortexing many tubes at the same time is achievable with the use of accessories.
Analog vortex mixer - The speed of the analog vortex mixer is regulated by turning the knobs from right to left. When using accessories, the mixing can be continuous, or touch/press down while using the cup header.
Digital vortexer mixer - The speed of the digital vortexer can be adjusted using the touchpad. The precise speed is displayed on the LED screen. There are two operation modes available (continuous operating accessories and touch mode while using the cup head). There is also the option of adding a timer and speed.
Fixed speed mixer: There is no speed range available. The machine operates at high speeds and exclusively in touch-down mode. This vortexer is the only one that comes with the cup head accessory.
Mini vortexers: These are excellent for vortexing small volumes of samples (0.2-50ml). It can be used in both digital and analog modes. Depending on the accessories used, both modes of operation are accessible.
Pulsing vortex mixers: These uses glass beads to break cells. While mixing, the pulsating movement lowers heat production. Touch and continuous mode are both possible in this type of vortex, which uses both analog and digital technology.
Microplate vortex mixer: This device is used to mix the contents of a microplate. It only has one functioning mode, which is continuous mode. This vortexer is available in both digital and analog configurations.